The comfortable accommodation of Filokypros Country Houses in tranquil – but not isolated –  locations, together with the moderate climate of Cyprus allows you to enjoy outdoor activities all year round. From April to November the tepid sea along sandy or pebbled beaches and in the cooler months, the mild climate encourages you to follow the nature trails on the coast or in the mountains and enjoy the lush Mediterranean vegetation.
Explore the village, enjoy a traditional meal in the local Taverna, chat with the locals, watch them prepare the traditional Cyprus Halloumi cheese or even join them as they harvest oranges, olives…  Walk, cycle and once you get into the car, nothing is really far away.
More activities for small groups
Staying at Eveleos Country House in Tochni, we organise for small groups cooking, painting lessons, picking olives and even art therapy. At the same time, guests can enjoy daily the freshly made breakfast and traditional dinner at the local Taverna of the village.
COOKING LESSONS
Our culinary lessons are relaxed, fun and hands-on. They take place in our common room at our Eveleos country house, with everyone working in a small group with a qualified chef. Cypriot food is simple but tasty and the recipes you'll learn are ones you can bring home and create in your own kitchen with ingredients that can be found anywhere. You'll learn new techniques and skills, while creating recipes using fresh, seasonal ingredients and meet new people.
PAINTING LESSONS
Set in idyllic and unspoilt regions of Cyprus, guests have the opportunity to learn from experienced painting tutors.  Cyprus is quite famous for its rich culture and stunning landscapes. It is the ideal location for painting activities. Take your time to scan the landscape for the perfect composition. Visit historic cities like Curium or visit the mountains.
PICKING OLIVES FOR YOUR OWN OLIVE OIL
Autumn is the ideal time to harvest the Olives.  You can participate in this timeless activity with a local family.  After 1 to 2 days of work, we drive our bags of olives to the olive press to produce our olive oil. The rest of the week, we will drive you by bus to explore the archaeological sites of Cyprus and some relaxation at our Eveleos pool.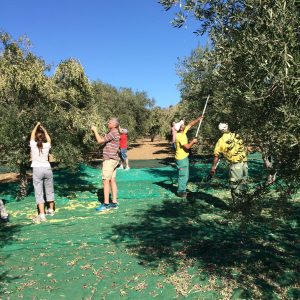 ART THERAPEUTIC RETREAT –  COMING SOON –
We propose an Art Therapy informed retreat at our premises and we would offer the following:
Visual art workshops
Creative Movement workshops
Morning and evening meditation groups
Art Psychotherapy and Movement Psychotherapy 1-1 sessions
Reiki 1-1 sessions